Singer Featherweight Sewing Machine Auction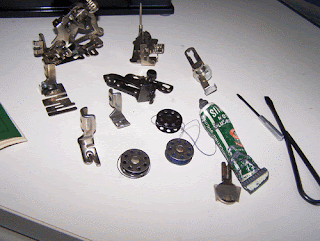 Super Condition 1951 Centennial Model Singer Featherweight 221 Sewing Machine Serial number: AK090870 which, when I looked up this serial number online, is given the January 29, 1951 manufacture date. It is in a condition that I read about at this link: http://www.patented-antiques.com/Backpages/All_Archives/SEW_ARCHIVE/fw_SM.htm As the expert at this site says: "it is in a condition that is 'sought after but rarely found." The one I'm comparing it to sold for $625.00… it is the Centennial Model Featherweight, commemorating Singer's "Century of Sewing Service" and it is marked with Singer's oval-shaped gold with blue outline commemorative plaque bearing the dates 1851-1951. This machine has been well taken care of. The black paint is pretty shiny, the gold decals are bright, and there is no evidence of the "fabric wear path" on the bed that so many of the Featherweights exhibit. There are some minor surface "pin marks" in the clear coat finish that you see when it is held up to the light. The machine has been oiled and lubricated in the appropriate places and is ready to display or to sew with. It came with a repair tag attached to the case. I tested it out – and it stitches a beautiful stitch and the motor runs strong and quiet. The case for this Featherweight is in excellent condition both inside and out and it is evident it was stored in a nice dry environment, but I also have to say that it 'smells like I remember my Grandma's house smelling'. This machine comes with the original instruction booklet which seems to me to be in perfect condition. The little Singer oil tube is included as well as the following attachments (which I had fun identifying from the instruction booklet!): Foot hemmer, Adjustable Hemmer, Multiple Slotted Binder, Edge-Stitcher, Gatherer Foot, Ruffler, Seam Gauge that screws in, 2 screw dr ivers, and 2 keys to the case. – this is ALL of the that are mentioned in the book!
This machine is a beauty—one of those that just does not come along very often.
For Londa's books, patterns, and supplies as described in her sewing escapades, please see Londa's Creative Threads – http://www.londas-sewing.com