GALLERY: FREE TALKING PATTERN SAMPLE:
ADD A YOKE FOR SWEATSHIRT JACKET LENGTH
To hear Londa TALK you through each step, simply click on the arrow at the left (make sure your volume is turned up). Then click on the picture for it to be come larger. Enjoy!
Enjoy this FREE 'Talking Pattern™
as my gift and a sample of how my innovative Talking Patterns™ for
Jackets and
Artistic T's
can make ALL your creative sewing endeavors easier, clearer, and just... more FUN!!!
1. Click on the photos in order below. Wait a moment for the black bar at the lower left - then enjoy listening to my personally-recorded directions for the photograph you are seeing.
2. When you have completed that 'frame', continue to the next by either clicking the X in the lower right hand corner to close out and then click on the next frame/photograph, OR click on the arrow to the right in the lower left hand corner to take you to the next frame/photograph.
This Gallery will share my simple steps to solve the dilemna of 'not enough length' in the sweatshirt 'fabric' for the length you desire..........
Just ADD a YOKE using Polar Fleece (similar in weight to sweatshirt fabric), in front and back, then cover it with embellishment fabric on the outside, and lining or some fabric on the inside! Similar to my technique in Sweatshirt Transformations found in the cover jacket - 'Distinctive' where I teach to add the desired length at the jacket HEM edge, but just do the same thing at the TOP, creating a YOKE.
Londa's Introduction
Listen, then do as you desire - that's why you sew anyway!
The 'Problem' explained...
When the sweatshirt, all cut apart and folded ON GRAIN, does not yield sufficient length, you can 'skin the cat' a different way...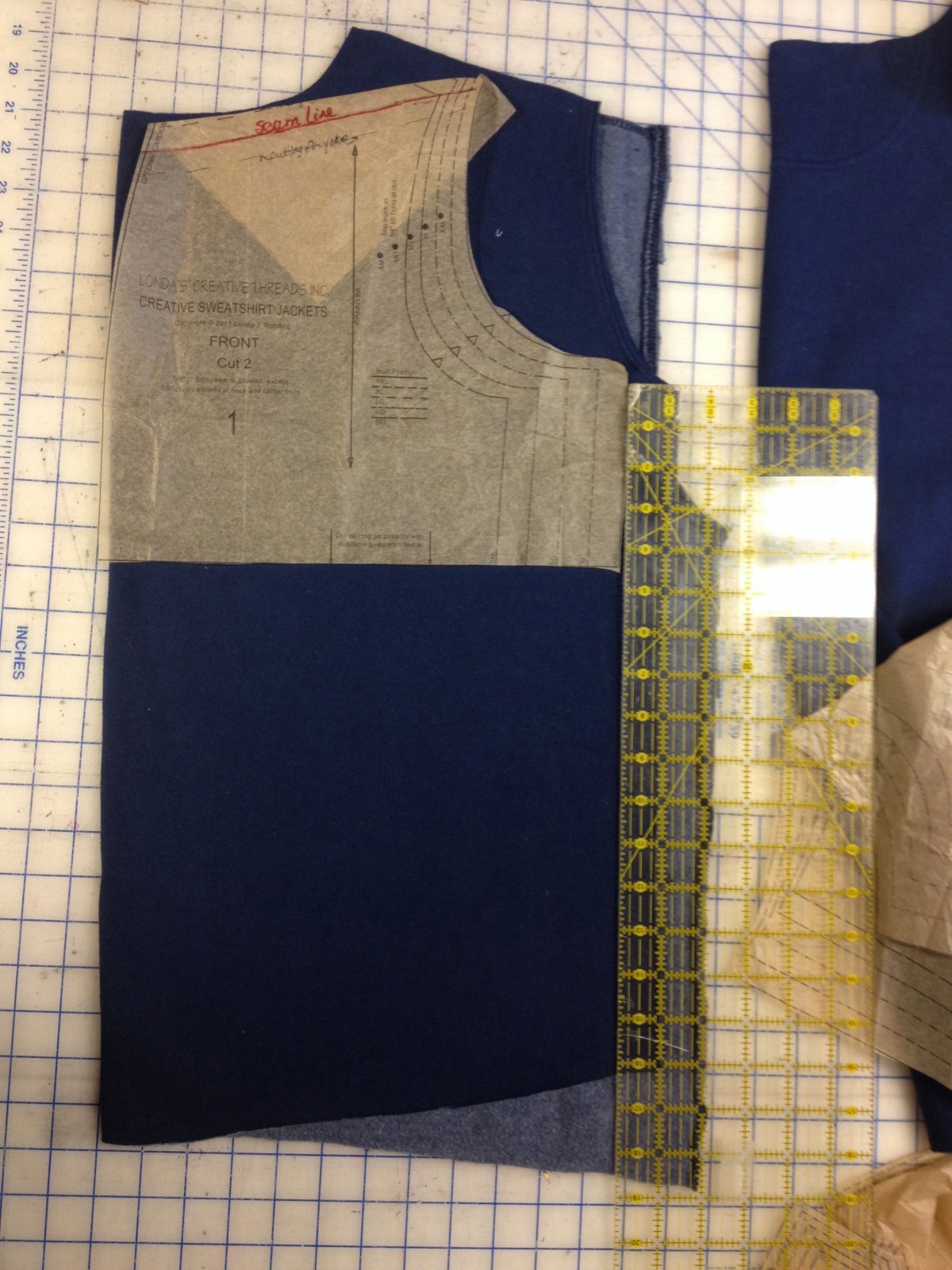 Adding a Yoke Yields Additional Length

By adding a yoke of a different fabric (polar fleece is similar in loft to sweatshirt fabric), you will be able to gain substantial length in the body from the available sweatshirt fleece.
After listening to the audio below, go back to "Londa's Intro" and listen from 3:10 forward for the next step - which is really pictured in the first frame 'Londa's Intro'.
Cut Yoke from Polar Fleece
Cut the sleeves from the Sleeve sweatshirt fabric, cutting as long as possible.
Cut the Back

Cut Back of sweatshirt as long as possible after establishing yoke line.
Stabilize the Sweatshirt Edge

Fuse Straight Fusible Stay Tape.
Check to Original Pattern
Lap Fleece over sweatshirt and double check to original.